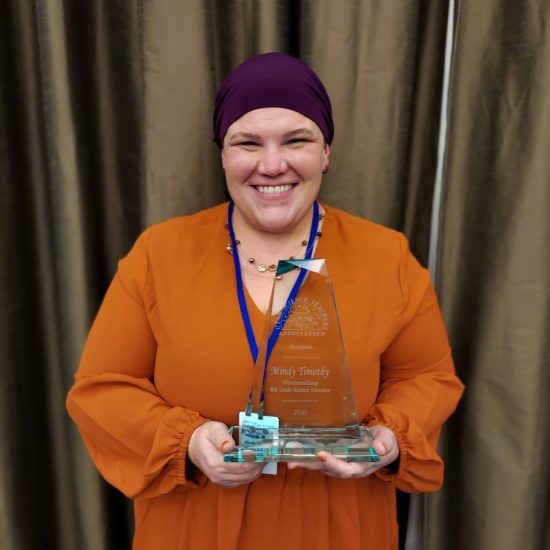 Our very own amazing Ms. Mindy Timothy has been awarded this year's Utah Science Teacher Association (UtSTA) 8th Grade Science Teacher of the Year award! She is a lifelong learner about what makes the world go–which is one of many reasons she loves science. Ms. Timothy earned her Bachelor's of Science at BYU-Idaho in Earth Science Education, and a Master's Degree from the University of Utah in Secondary Science Teaching, with an emphasis in Earth Science. She has found her place teaching middle school—and has enjoyed it for 17 years.
Ms. Timothy lives for the 'aha' moment for students. Those moments define the learning struggle for each student as an exciting and meaningful educational experience. She works with students daily to avoid slipping or feeling depleted; she pushes herself and her teaching methods for all students to be successful and have those 'aha' moments. Also, she is grateful for all of the teachers she has worked with over the years; being able to collaborate with other excellent teachers to improve one's craft is a gift every day.
If Ms. Timothy was not a teacher, she would chase tornadoes, measure glacial advance/decline, and/or study earthquakes. We are honored to have Ms. Timothy as part of our Albion Family and are thrilled with this latest acknowledgment of her awesomeness!